v

724

Ice Blade

   
Information
Type
Weapon
Sub-Type
Broadsword
Damage?
17
13
Use Time
19 (Very Fast)
Knockback
4.75 (Average)
Quality
Tooltip
Shoots an icy bolt
Found In
Ice Chests
Sell Value
40  

Crafting
This item cannot be crafted.
The Ice Blade is a sword found in Ice Chests. It shoots a non-piercing bolt of ice when swung that deals a low amount of damage. The bolt of ice also generates about as much light as an Ice Torch.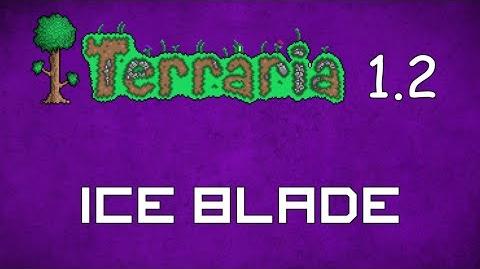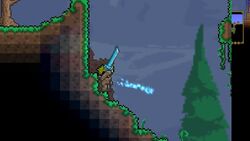 Notes
It is possible to hit monsters twice with this weapon in a single swing: once with the actual strike, and once with the projectile.
Although the Ice Blade does not require mana the "regenerated mana" particles and sound will play to indicate when it is ready to fire a projectile again.
The Ice Blade's projectile counts as melee damage and is affected by melee enhancing accessories.
The Hardmode upgrade to the Ice Blade is called the Frostbrand.
After swinging the blade and firing a projectile, you are unable to change weapons until the blade is ready to fire again.
Update Info
Added to the game.

00:10

Terraria 1.2 - Iceblade-3