Ice Elementals are a Pixie-like Hard Mode monster that reside in Snow Biomes. They fire an icy bolt similar to the Icy Merman and emit light. They can be quite vicious when attacking, but you can use ranged or magic attacks to keep them at bay. If the player is not paying attention, it's not difficult for the elemental to blend in with underground ice walls, and ambush under-prepared characters.
Update Info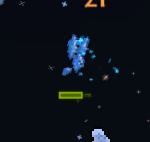 Ad blocker interference detected!
Wikia is a free-to-use site that makes money from advertising. We have a modified experience for viewers using ad blockers

Wikia is not accessible if you've made further modifications. Remove the custom ad blocker rule(s) and the page will load as expected.