v

Ice Rod

496
Information
Type
Weapon
Sub-Type
Spell

Damage (?)

26
Use Time
16 (Very Fast)
Knockback
1 (Extremely Weak)
Continuous Attack
Yes
Mana Cost
7
Rarity

Tier 4 (Red)

Tooltip
Summons a block of ice
Purchase From
Wizard
Purchase Value
1  
Sell Value
20  
Crafting
This item cannot be crafted.
The
Ice Rod
is a spell which can create ice blocks. The blocks can be walked on as well as block enemies from passage, but will "melt" only a few seconds after creation. The ice blocks will be placed wherever your cursor is.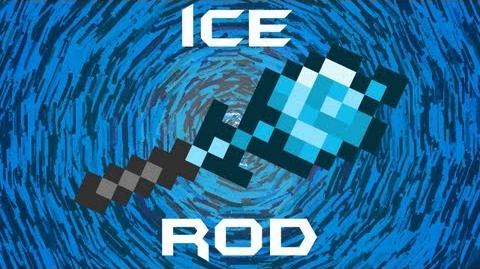 The Ice Rod can be a useful way to descend into deep caves if the player does not have a way to prevent fall damage, or to get to floating islands with rocket boots or wings as you can shoot them under yourself and land on them, resetting your flight item's charge. The ice block also emits a blue light and some light particles.
The Ice Rod can also be used to check the underground for ores and caves due to its particle effect.
The Ice Projectiles cannot pass through Lava.
You can also make the ice blocks permanent by placing a chest on ice blocks and waiting for the particles to fade away. You can use them to build but they still break easily and won't drop a block. They won't give off any light or drop any particles in this form.
The Ice Rod can be used to place a block in mid-air touching the ice block.
The sprite of the Ice Rod is similar to that of The Breaker.
It also appeared as a required item in The Legend of Zelda a Link to the Past.
The "ice" that is created by the Ice rod has a similar, if not the same, texture with Glass.
Bugs and Glitches
Edit
If you use the ice rod on a server, you may be kicked for placing impossible to place blocks.
If you place a chest with an item in it on an Ice Block and then exit and reenter the world, the Chest will be duplicated.
Update Info
Edit