The
Imp Staff
summons a flying Imp to fight for the player. It does more damage than the
Hornet Staff
Hornets. The Imp shoots fireballs rapidly, capable of piercing multiple enemies and inflicting the
On Fire
debuff.
Like most fire-based attacks the Imps' fireballs are put out by water, making them completely useless at fighting underwater enemies. Unfortunately, the Imps seem to be completely unaware of this, and will continuously attempt to attack these enemies anyway.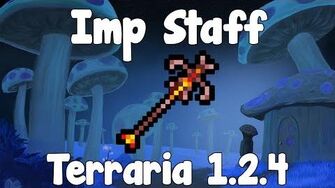 Notes
Other minions can be summoned together with the Imps, but the minion slots will be shared amongst them.
The maximum number of minions one can spawn is eleven. This can be achieved by wearing a full set of Tiki Armor while equipped with Pygmy Necklace, Necromantic Scroll, Papyrus Scarab, a Summoning Potion Buff, and using The Bewitching Table at the same time.
While the imp will not actively engage in melee combat, it will damage enemies on contact.
Bugs
The Imp will rarely rapid fire for 2 seconds.
Update Info
It now costs 10 mana to use.