v

2880

Influx Waver

   
Information
Type
Weapon
Sub-Type
Broadsword
Damage?
110
Use Time
19 (Very Fast)
Knockback
4.5 (Average)
Continuous Attack
Yes
Quality
Dropped By
Martian Saucer
Drop Rate
11.11%
Sell Value
10  

Crafting
This item cannot be crafted.
The Influx Waver is a sword that is dropped by a Martian Saucer from the Martian Madness event. Very much like the Terra Blade, it will send out projectiles shaped like swords. When the projectiles hit the target, the target will be hit multiple times by the same projectile in a poison-like manner until the duration ends or it is dead.
Notes
This weapon could be considered as an upgrade of the Beam Sword, as its mechanics are very similar.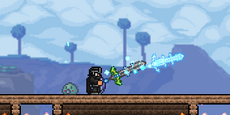 Update Info
Ad blocker interference detected!
Wikia is a free-to-use site that makes money from advertising. We have a modified experience for viewers using ad blockers

Wikia is not accessible if you've made further modifications. Remove the custom ad blocker rule(s) and the page will load as expected.