v

1813

Jack 'O Lantern

   
Information
Type
Item
Sub-Type
Light Source
Max Stack
99
Quality
Sell Value
No Value
The Jack 'O Lantern is an item that emits light. When placed it will be a random face, of which there are at least 9 different styles.
Update Info
No longer show up as Chandeliers on the map.
Gallery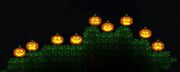 Ad blocker interference detected!
Wikia is a free-to-use site that makes money from advertising. We have a modified experience for viewers using ad blockers

Wikia is not accessible if you've made further modifications. Remove the custom ad blocker rule(s) and the page will load as expected.