The
Jester's Arrow
is a consumable projectile that can pierce through an unlimited number of enemies. They can be found in chests underground and in
Dungeons
. As of 1.2 they can now be crafted using 10
Wooden Arrows
 and 1 
Fallen Star
. They are fired from a
bow
or
repeater
. The arrows have a sparkling trail effect behind them and they disappear after traveling a certain distance or when they hit an obstacle. They are also slow-moving and not affected by gravity.
Jester's Arrow are very similar to Unholy Arrows. They only deal 1 more damage than the Unholy Arrow. However, Unholy Arrows can only hit up to 4 enemies at once while Jester's Arrows will hit an unlimited number of enemies.
The light particles emitted when they are fired are excellent for finding hidden caves and ores. The particle distance is similar to that of the Fiery Greatsword, but Jester's Arrows are usually obtained much earlier on in the game.
Notes
They are useful for creating "fireworks", similar to the Magic Missile. This firework effect could be used in roleplays. A good way of farming Jester Arrows is by starting a new world and going to the dungeon. Search all the chests and then start a new world. Not to mention you get other loot and the magic missile which also creates the firework effect if you can't get enough Jester's Arrows.
These arrows are also very useful in defeating the Goblin Army or other invasions, since they can pierce an unlimited amount of enemies.
These arrows are found in the Mobile Version, but not craftable.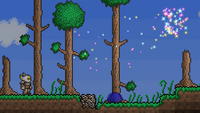 Update Info
Max stack increased from 250 to 999.
Can now be crafted