Jungle Armor
is an armor set made from components that you can find in the
Underground Jungle
. It consists of three pieces: the
Jungle Hat
, the
Jungle Shirt
, and the
Jungle Pants
. When wearing the complete set, the player emits green particles similar to when leaves are cut in the
Underground Jungle
.
Obtaining all of the items that come from the Underground Jungle can take some time and is difficult without somewhat higher Quality Armor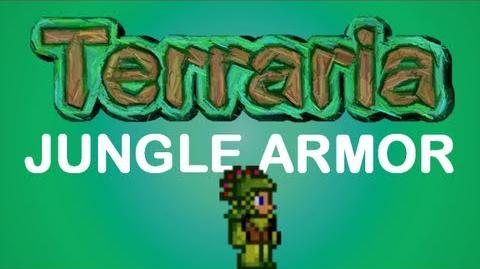 Terraria - Jungle Armor(03:26)
4,245 views

Jungle Armor was previously known as Cobalt Armor, but Cobalt was replaced with Jungle Armor to fit the Jungle setting. i.e. anyone who had any piece of the Cobalt Armor had it replaced with the Jungle Armor of the same type.
This set used to be a rare drop from various Jungle mobs, but as of Patch 1.0.5, it is no longer a drop, and must be crafted.
According to the picture that was posted in Dev Blog, the set bonus would be getting "16% reduced mana usage".
In 1.0.6, the recipes for each piece were changed to need only one gem of each type. (one diamond, one topaz, etc.)
It used to be rumored that wearing the Jungle Shirt would double the monster drop rate. However, this has been proven false.