The Jungle Bat is an orange version of the Cave Bat or Hellbat. It is found in the Jungle biome. The Jungle Bat does 20 damage and has 4 defense.
The Jungle Bat spawns primarily on the Surface Jungle, but has also been known to spawn in the Underground Jungle. They are tough to kill with ranged weapons because of their size, so it is recommended to use melee weapons when engaging them. Weapons similar to the pickaxe or broadsword are useful, because their attacks affect all things above and in front of you. Jungle bats are the primary reason new players should stay away from jungle biomes, as they hit harder than demon eyes while having greater maneuverability and acceleration , bats might try to swarm players making them unable to move or defend themselves.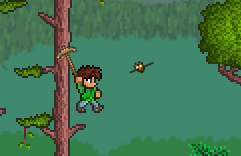 Trivia
Update Info
Jungle Bats now drop Depth Meter.