Jungle Shrines
are buildings made out of
Gold Bricks
that can be found in the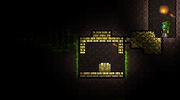 Underground Jungle
. They are similar to the
Floating Island
shrines, but smaller, and are only made of Gold Brick.
Each shrine has a chance of containing a chest that contains special equipment and items not found in other environments. Shrines usually contain one chest but on rare occasions they may contain zero or two chests, but this is very unlikely. They also sometimes appear very close to the surface when your jungle mud is above ground during rare occasions. A Jungle Shrine may also appear with no solid block walls, but this is insanely rare, probably due to the shrine spawning atop a Glowing Mushroom field.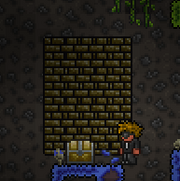 Items that can be found in the Jungle Shrine chests include
On rare occasion Jungle Shrines appear floating above an Underground Jungle, given that the Underground Jungle reaches up to the surface.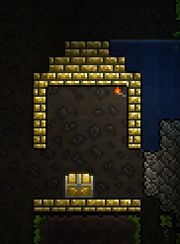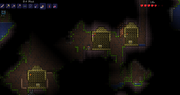 Update Info
Edit
No longer has a chance to spawn Nature's Gift inside shrine chests.
Shrines are now generated with no background wall.