Jungle Spores
are found in the
Underground Jungle
. They are used to craft the
Ivy Whip
,
Blade of Grass
,
Thorn Chakram
, and pieces of
Jungle Armor
.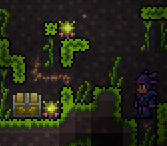 Before they are harvested, Jungle Spores appear as small, circular thorns that give off light.
They can be harvested with virtually any tool, like other small plants, and are easily found in the Underground Jungle. They illuminate dark areas with a faint glow, making them hard to miss in places that aren't lit. They will also grow in caves randomly around the Underground Jungle.
Jungle farms can be used to harvest jungle spores. Use Jungle Grass Seeds to plant on a Mud Block and create a jungle enviorment. This will allow for the spores to grow.
Jungle Spores are now used to create Jungle Armor which is why creating a farm in a safe enviornment may help.
Update Info
Edit
Replaces the Jungle Rose in all crafting recipes. All existing Jungle Roses in chests and inventories became Jungle Spores.