v

1314

KO Cannon

Information
Type
Weapon
Sub-Type
Flail
Damage?
35
Use Time
27 (Average)
Knockback
6.5 (Strong)
Continuous Attack
Yes
Quality
Tooltip
Shoots a boxing glove
Dropped By
Monsters during Blood Moon when Hardmode is activated
Drop Rate
0.1% (1:1000)
Sell Value
54  

Crafting
This item cannot be crafted.
The KO Cannon is a rare weapon that only drops during a Blood Moon when Hard Mode has been activated. It does not consume ammo. It functions similarly to the Harpoon, and can drop from almost any monster. It provides continuous fire, allowing the player to backpedal while firing, making it useful for dealing with hordes of enemies and kiting larger ones.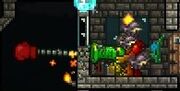 Notes
At point-blank range this weapon can do massive damage since it possesses auto-fire.
Bugs
If it's aimed at a door the glove will disappear.
The glove can sometimes pass through walls when walking towards or away from the wall.
Update Info