v

2798

Laser Drill

   
Information
Type
Tool
Sub-Type
Pickaxe / Drill
Axe / Chainsaw
Tile Range Boost
+10 Tiles
Damage?
35

Velocity (?)

36
Axe Power
150%
Pickaxe Power
230%
Use Time
25 (Fast)
Use Rate?
7 (Insanely Fast)
Knockback
4.75 (Average)
Highest Prefix

?

Godly
Quality
Dropped By
Martian Saucer
Drop Rate
11.11%
Sell Value
10  

Crafting
This item cannot be crafted.
The Laser Drill is a drill dropped by Martian Saucer. It is currently the best mining tool in the game, having 230% pickaxe power. It is also the second best tree-cutting tool in the game, first being The Axe. The best prefix it can obtain is Godly. The laser drill increases digging range by 10 when using it.
Notes
The Laser Drill has the highest pickaxe power in the game, rivaling even the Shroomite Digging Claw.
The Laser Drill has longest reach out of every picking tool in the game (+10).
The Laser Drill holds the record for "Best Pickaxe/Axe Hybrid" in the game.
Tips
You can accidentally destroy something you don't want to mine if your cursor is out of range - it will mine the block at the 10-block mining limit.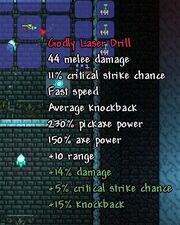 Update Info
Doesn't prioritize over trees anymore.