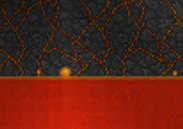 Lava
is a
liquid
found commonly in large pools once the player has reached a certain depth (about 1200-1500 feet below on the
Depth Meter
). It will cause a large amount of damage to the player and
monsters
, and oftentimes falling into lava is fatal. If
water
touches Lava, the Lava turns into
Obsidian
.
Burrowing Monsters
seem to have an immunity to Lava
damage
. When lava comes in contact with most placed items, it will burn through them. However, Lava will not burn through regular
Wood Blocks
, and will also not burn through closed
Wooden Doors
(though as soon as the door is opened it is destroyed). The
Obsidian Skin Potion
grants immunity to lava, and
Flippers
will allow you to swim in lava. However, you can still drown similarly to
Water
, but this can be undone with
Gills Potion
 because with this you can breathe 
water
/lava, instead of 
Air
. The 
Diving Helmet
/ 
Diving Gear
 could also work.
Lava deals 100 Damage to the Character modified by the player's Defense, and 50 Damage to monsters modified by the monster's Defense. Lava was thought to incinerate dropped items that are 100% covered by a Lava tile; however, further experimentation has shown the amount is closer to 25%. The optimal way to create a Trap is to have 1 Bucket of lava for every 6 blocks of the Trap, this way it still damages the player and creatures without destroying any Coins or loot.
Players and monsters who are harmed by Lava will always receive the "
On fire!
"
Debuff
.
Make a large pit 1 block deep, and another pit below that. Pour a Bucket of Lava into the top pit and bucket it back out, mine a hole to allow the remaining lava into the lower pit. Now bucket that out and enjoy!
This procedure can have varying results, sometimes it will work great and you will even have lava left over in the lower pit. Other times it can be less successful, only yielding one duplicated Bucket per two normal ones.
Read more about duplicating liquids.
Previously, in Multiplayer, when lava was poured from a Bucket, it turned into water for a brief moment, so when you tried to duplicate it, it might actually have produced some Obsidian, but this had to be done quickly. However, this bug has been fixed.
When a world is being generated for the first time, it is possible for a lava pool to be generated over a glowing mushroom spot. In this situation, the large mushrooms and mushroom grass will not be damaged in any way until one of the submerged mushrooms is disturbed by the player, at which point the lava will destroy all nearby mushrooms.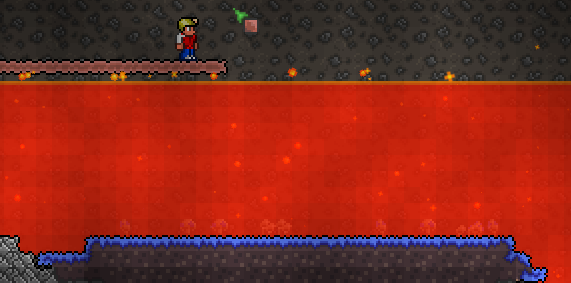 If you set the game to pause when you go into your inventory, Lava will keep producing bubbles and embers while it's paused.
There is a glitch where if you have an item like a chest or gravestone placed, water and lava will touch without making obsidian on that location.
Seeing lava is normally a good indication that the player will soon reach the Underworld.
Update Info
Edit
Now only Silt Blocks can remove lava by being dropped into it.
Removed ability to put blocks in lava, although sand still works.
Items of blue quality or above, can no longer be destroyed by lava.
Increased the amount of lava required to do damage to 2 pixels.