The
Light Disc
is a thrown melee weapon that stacks up to five, meaning you can throw up to five at once (although this requires the crafting of five separate light disks). Its range is the longest of all thrown weapons. When thrown, it emits a miniscule amount of blue light. The Light Disc will bounce when it hits a wall. If in an enclosed area, it can bounce rapidly, making it extremely hard to dodge, this makes it quite an effective weapon.
The Light Disc has extended range when wearing Hallowed Armor, or any other armor that grants a Melee Speed boost. When wearing Hallowed Armor, the weapon can be thrown for around fifty blocks.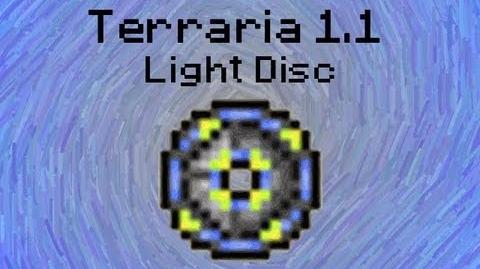 Light Discs are not consumed when thrown.
Only five can be thrown at a time, even when wielding multiple stacks.
The weapon cannot have prefixes upon crafting, nor can it be reforged.
When standing right next to any block and the weapon is thrown to the other side of the block, it will go through the block.
This could be a good strategy to fight The Destroyer since it deals more than 50 damage per second (with more than 1 Light Disc)
It seems like the Light Discs inflict some debuffs to the player when thrown against a nearby block too often. This is caused by a modded server thinking the player hacks the item to use it faster.
In the console version, the player will be able to throw multiple Light Discs at once even if they have only crafted one.  It is unknown if this is a bug or an intentional change.
Sometimes, when the player is standing by a one tile wide wall and throws the light disk, the light disk passes through the wall. This works with Boomerangs as well.
Update Info
Edit