Lihzahrds are monsters found in the Lihzahrd Temple. They are aggressive and can quickly overwhelm the player in large numbers if not dealt with swiftly.
After sustaining sufficient damage, Lihzahrds will get down on four legs, granting them highly increased movement speed, melee damage, defense and resistance to knockback from melee sources. The sprite for the Lihzahrd changes after this transformation.
Rarely, they can drop Power Cells upon death, which are used with the Lihzahrd Altar.
Like all monsters, when you have killed the 50th, in this case Lihzard, it will drop its banner.
Trivia
Due to their appearance, technology, and subterranean nature, Lihzahrds are most likely a reference to a race of humanoid reptilians called Silurians from the popular television series Doctor Who.
They can also be references to a Legend Of Zelda: Skyward Sword enemy called Lizalfos.
The Witch Doctor NPC is a Lihzahrd, notably the only friendly one in the game.
Bugs
A Lihzahrd will fall through the floor when it changes to its four-legged form while leaning, or running, into a wall. It will continue its falling until it hits an open space that is 3x2 or larger.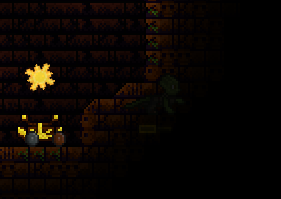 Update Info