v

1102

Lihzahrd Brick Wall

   
Left: Lihzahrd Bricks over Lihzahrd Brick Walls
Information
Type
Block
Sub-Type
Wall
Placeable
Yes
Max Stack
999
Quality
Sell Value
No Value
The Lihzahrd Brick Wall can be found naturally in the Jungle Temple or crafted with 1 Lihzahrd Brick at any type of Workbench. Unlike other walls in the game, the player cannot teleport where any Lihzahrd Brick Wall is placed via either the Rod of Discord or Teleporters. This feature was implemented to prevent players teleporting to bypass the requirement of a Temple Key to open the door.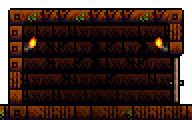 Notes
Lihzahrd Brick Walls can be used to make an artificial Jungle Temple biome (Just change in music), but for Lihzahrds and Flying Snakes to spawn, Lihzahrd Bricks must be present as well.
Update Info
Cannot teleport to areas with Lihzahrd Brick Walls