This article pertains to content which has been removed from Terraria.

Although the topic of this article used to be in the game, it was removed for reasons which may or may not be known and can no longer be accessed, legitimately or illegitimately.
No longer spawned, please see Eater of Souls for the variant which replaced this monster.
The Little Eater is a flying enemy found in the Corruption. It is a variation of the original Eater of Souls. It is the smallest member of the Eater Family. It has the same attack pattern and behavior of its larger cousins, and also drops the same material, but has only 34 Health and 6 Defense. It is more likely to spawn above ground in the Corruption.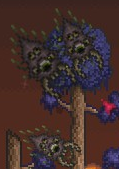 Update Info