Mana is the player's magical energy in Terraria. It is used to operate magical accessories and weapons.
You start the game with 20 maximum mana (as of 1.2), but your total can be increased by collecting Fallen Stars and combining 5 of them into Mana Crystals, or by equipping an accessory with an Arcane prefix which increase your maximum mana by 20 when used.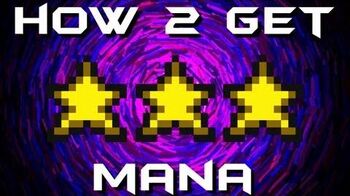 Players can regenerate mana in a few ways: letting it naturally fill, consuming certain foods, drinking Mana Potions, or picking up Mana Stars, from enemies. Using Fallen Stars, wearing a Band of Starpower (which increases your maximum mana by 20 as of 1.0.6), and by equipping a piece of Meteorite or Jungle Armor or certain classes of the Hard Mode armors, or using a Crystal Ball, will all increase your mana pool. Natural mana regeneration won't begin until about 1 second after use, however items that regenerate mana will do so even while you use mana.
Each blue star on the HUD represents 20 mana. Players can have up to 200 "base" mana, but there is equipment that can increase this pool's size:
Whatever the method used, a player's boosted maximum mana can't go past 400.
Natural mana regeneration is greatly increased if the player stands motionless as it recharges, but will slow when the player moves or uses any items.
Mana's main use is to cast Spells. When you kill an enemy with a spell, there is a small chance that they will drop a Mana Star. There are currently more than 20 spells available (Though not all are offensive):
Note: This is not an exhaustive list. See here for a full list.
Notes
As of v1.0.6), the mana regeneration items will no longer regenerate mana. Instead, it expands the mana pool itself. So far, only the Jungle Armor and Band of Starpower will expand your mana pool by twenty points per piece. The natural regeneration rate will also be affected by how much you have remaining and will refill slower when near empty than when near full. Also, if you stand still your mana will regenerate much faster than when you are moving.
Update Info
Starting mana is increased from 0 to 20, new spells added
You only need 5 Fallen Stars to make a Mana Crystal now. v1.1
Fixed bug which allowed players to have an unequipped mana cap of 240.
When mana completely regenerates, the player's Character will get a momentary blue sparkle around him/her and will hear a sound.