v

555

Mana Flower

   
Information
Type
Accessory
Body Slot
Accessory Slot
Quality

Tier 4 (Red)

Tooltip
8% reduced mana usage,
Automatically use mana potions when needed
Sell Value
3  
The
Mana Flower
is an accessory that can be crafted by combining a
Mana Potion
and
Nature's Gift
at the
Tinkerer's Workshop
. The Mana Flower acts as a more powerful version of
Nature's Gift
, reducing mana usage by 8%, while also allowing the player to auto-consume Mana Potions with no cooldown.
This accessory is extremely useful for magic users, as it allows them an effectively uninterrupted barrage of magical attacks, as long as they have enough Mana Potions in their inventory.
Additionally, this accessory will function to automatically consume Lesser Restoration Potions and Restoration Potions should it encounter one when scanning your inventory prior to encountering any standard Mana Potion variety, healing both Health and Mana simultaneously. Be aware, however, that this tactic will also impart the Potion Sickness debuff for consuming a Health Potion, and as such will negate the aforementioned "uninterrupted barrage of magic" attack strategy.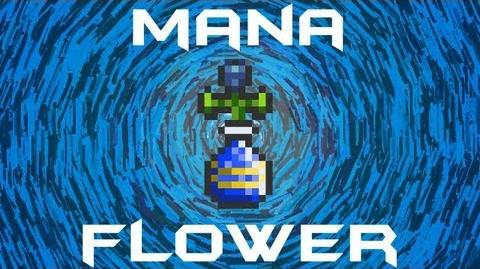 Trivia
Although it uses a regular Mana Potion for crafting, the potion represented in its sprite is a Greater Mana Potion.
The function of this item to automatically apply needed potions in response to a preset condition is reminiscent of the Auto-Potion ability present in various Final Fantasy titles. This similarity is more pronounced when it is used with Restoration Potions to automatically restore both Health and Mana, although the activation condition (Mana fully depleted) remains the same regardless.
Update Info