The
Mannequin
is a placeable object, made of wood, that allows the player to place and display armor sets or vanity items on it. This can be used either for storage or for decoration. It is crafted with a
Sawmill
and 20 wood.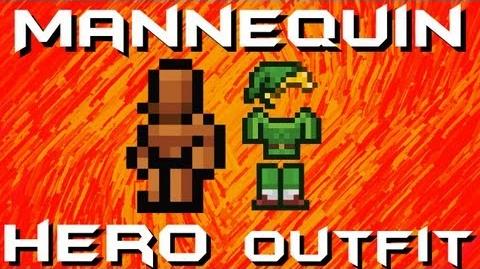 To place armor on a mannequin, the mannequin must be placed in the world. Then, with your inventory open, select the armor piece you desire and click on the mannequin with that piece selected.
You cannot place clothing on a Mannequin with Autopause on, unless you put the clothing in your hotbar beforehand.
The only apparel items that cannot be exposed on a Mannequin are the Familiar Clothes and Wings.
The armor always shows up as the male sprite for the armor (unconfirmed)
A bug discovered on multiplayer, if person A places an armor piece on a Mannequin, and then has person B beat it down from the Mannequin, person A loots 2 of the placed item.
If you place an armor hat, such as copper, iron, silver, gold etc., and then remove the mannequin, then try to put the mannequin back underneath the floating helmet. A bunch of mannequins will spawn in the stage where you can pick them up, giving you a bunch of free mannequins.
Update Info
Edit