The
Mechanical Eye
is a consumable item that summons the boss
The Twins
. To craft this you need to combine 3
Lenses
, 5
Lead Bars
/5
Iron Bars
and 6
Souls of Light
at a
Mythril Anvil
.
The Mechanical Eye will summon The Twins anywhere in both pre-hard mode and hard mode worlds, but must be used at Night.
As of 1.2, this item has a small chance of dropping from any enemy entity in Hard Mode worlds.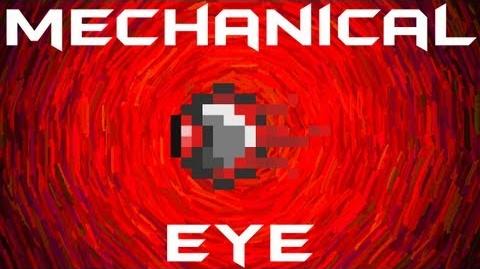 Bugs
The Twins are sometimes known to not appear after being summoned. (This is a very common bug on Multiplayer servers, but this could also be caused by an anti-boss spawning system used on a lot of servers)
On rare occasions if The Twins are spawned using the Mechanical Eye and the player teleports far enough from the boss only one of the "Eyes" may return thus leaving only one of them to fight against.
If you attempt to use the Mechanical Eye (or the other mechanical summoning items) at dusk, the item will not be used (which is supposed to happen) but when that night begins the respective boss will spawn naturally. This is a way to summon the hard mode bosses without using the item.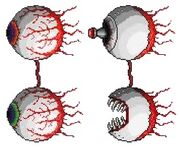 Update Info
Changed required materials.
The Mechanical Eye can be obtained by killing Hardmode enemies.