Ad blocker interference detected!
Wikia is a free-to-use site that makes money from advertising. We have a modified experience for viewers using ad blockers

Wikia is not accessible if you've made further modifications. Remove the custom ad blocker rule(s) and the page will load as expected.
v

204

Meteor Hamaxe

Information
Type
Tool
Sub-Type
Hammer
Axe / Chainsaw
Damage?
20
Hammer Power
60%
Axe Power
100%
Use Time
29 (Average)
Knockback
7 (Strong)
Quality
Sell Value
30  
The Meteor Hamaxe is a tool that functions both as a hammer and axe. The Meteor Hamaxe is a tier below the Molten Hamaxe.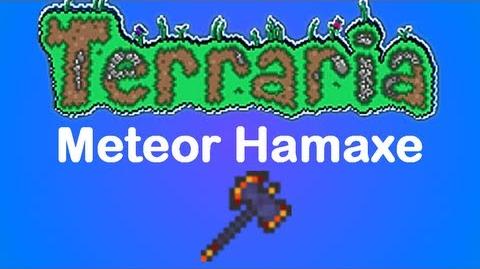 Notes
The Meteor Hamaxe saves space in your inventory by removing the need to carry both a hammer and an axe.
The Meteor Hamaxe is the lowest tier of tool that is capable of breaking Hellforges for collection.
If you swing the Hamaxe the sprite is mirrored. You hit things with the back of the Hamaxe.
The Meteor Hamaxe is the only tool made out of Meteorite.
Hamaxe is a portmanteau of hammer and axe.
The Meteor Hamaxe may be a reference to the Sharpened Volcano Fragment weapon in Team Fortress 2 that the Pyro uses.
| | | | | | |
| --- | --- | --- | --- | --- | --- |
| | Damage | Speed | Critical Strike Chance | Size | Knockback |
| Agile | 10 | | 3 | | |
| Annoying | -20 | -13 | | | |
| Broken | -30 | | | | -20 |
| Damaged | -15 | | | | |
| Dangerous | 5 | | 2 | 5 | |
| Deadly | 10 | 10 | | | |
| Demonic | 15 | | 5 | | |
| Forceful | | | | | 15 |
| Godly | 15 | | 5 | | 15 |
| Heavy | | -10 | | | 15 |
| Hurtful | 10 | | | | |
| Keen | | | 3 | | |
| Large | | | | 12 | |
| Lazy | | -7 | | | |
| Legendary | 15 | 10 | 5 | 10 | 15 |
| Massive | | | | 18 | |
| Murderous | 5 | 7 | 3 | | |
| Nimble | | 7 | | | |
| Pointy | 10 | | | | |
| Quick | | 10 | | | |
| Ruthless | 20 | | | | -10 |
| Save | 10 | | | 10 | 10 |
| Shameful | -10 | | | 10 | -20 |
| Sharp | 15 | | | | |
| Shoddy | 10 | | | | -15 |
| Small | | | | -10 | |
| Strong | | | | | 15 |
| Superior | 10 | | 3 | | 10 |
| Terrible | -15 | | | -13 | -15 |
| Tiny | | | | -18 | |
| Unhappy | | -10 | | -10 | -10 |
| Weak | | | | | -20 |
| Zealous | | | 5 | | |
Update Info