A Meteorite is an unnatural Biome that can appear on the surface of the world during the night (50% chance) after destroying a Shadow Orb, or rarely on a random night, which can only be mined with a Gold Pickaxe or better. Bombs or Dynamite can also be used. There will be an announcement at the bottom-left of the screen when a new meteor has fallen that says: A meteorite has landed! If the player destroys a Shadow Orb a Meteorite may land, but not straight away. It could take up to a few ingame days. Meteorites crash-land into the ground (though this event always occurs off-screen), causing a crater lined with Meteorite [Meteorites that hit sky Bridges give extremely few ores] . A single Meteorite can yield a little over 350 Meteorite Ore (enough for about 85 bars), though this number can vary. Meteorite can rarely be found in Gold Chest. In abundance, this can be used to make Meteor Armor, tools, and Phaseblades.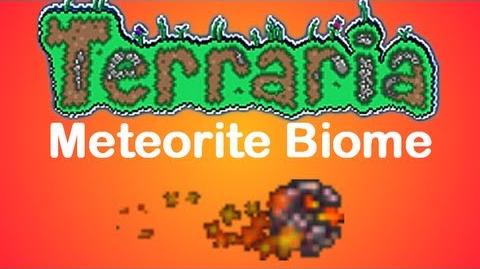 Meteorite blocks cause damage to the player when touched, but the meteorite itself is safe to pick up once mined. Meteorite block damage is eliminated by wearing an Obsidian Skull, Obsidian Shield, Obsidian Horseshoe or using Obsidian Skin Potion. With care, it can be mined without these defenses by placing other block types for the player to stand on as they mine.
When approaching a Meteorite crash site, Meteor Heads will spawn in an attempt to hinder your excavation of the Meteorite, and the game's music will change to the Underworld theme. Upon mining away the vast majority of the meteor (when the number of Meteorite is below 50), the Meteor Heads will stop spawning, indicated by the music returning to the general overworld theme. Strangely enough, Meteor Heads never spawn in the actual meteorite when you're close to it, but come from east, west, above and below, where there isn't usually a meteor.
Meteorites replace existing blocks in the area of impact, rather than delivering new blocks, and will impact on the first blocks it encounters at the highest possible altitude. If it impacts on a Sky Bridge, or other low-density block area, relatively few Meteorite blocks will be produced. Since Meteorites are a rare occurrence, and Meteorite is a valuable commodity, it may be worth the time to destroy any Sky Bridges you may have built prior to destroying a Shadow Orb, to ensure you get the full yield of Meteorite. Note that a Sky Bridge made of Inactive Stones is ignored. (Tested once. [1])
Meteor Heads have a 2% chance of dropping Meteorite.
Meteorites can fall anywhere on a map, which makes locating them on large worlds a significant endeavor. They can fall on Floating Islands, Dungeons, in chasms and in the Ocean. If it is in the Ocean or on a floating Island, Meteor Heads will still attack. It is even possible for Meteorites to fall right next to, or on NPC settlements.
If a Meteorite falls on a Chasm, the Chasm will not become plugged up because the meteor is actually just a translation of existing blocks rather than a new lump of blocks.
To protect your house, NPC settlements, or any other area from being destroyed by a meteorite, you can make an 'umbrella' over the area. If you wish to still harvest meteorite from any meteor that lands, you'll have to make the 'umbrella' much thicker; around 10 blocks thick would work, but is very costly in terms of resources. A stack of stone would make an umbrella about 25 blocks long.
The Vilethorn is useful against the meteor heads because in a single use, it deals enough damage to successfully destroy it. You can also use it through blocks before they have the chance to get to you. Alternatively, if you don't have the Vilethorn or a large mana pool, you can use the Blade of Grass. It has a large sweep and high damage, capable of taking out several meteor heads with one or two swings.
Shadow Orbs Broken

Chance for x meteorites to spawn

Total Chance

1
2
3
4
5
1 Orb
50%
0%
0%
0%
0%
50%
2 Orbs
50%
25%
0%
0%
0%
75%
3 Orbs
50%
25%
12.5%
0%
0%
87.5%
4 Orbs
50%
25%
12.5%
6.25%
0%
93.75%
5 Orbs
50%
25%
12.5%
6.25%
3.125%
96.875%
The amount of meteorite needed to spawn Meteor Heads, 50 blocks, sells for exactly one gold. However, you'd be better off with the bars because they seem to fetch more.
If the meteorite lands in the ocean, very few Meteor Heads will spawn, no matter how much meteorite ore is there. However you still have to deal with the natural mobs in the ocean.
There is a bug that rarely occurs which summons Eye of Cthulhu even at daytime just after the last blocks of meteorite are mined. This only seems to happen before Eye of Cthulhu has been defeated in a world.
Sometimes, if a meteorite has not landed in a world yet, the first time it says "A Meteorite has landed" in that world a meteorite will not have actually landed, but the next time it says "A Meteorite has landed", it will have landed.