v

98

Minishark

   
Information
Type
Weapon
Sub-Type
Ranged Weapon
Damage?
6
Use Time
8 (Insanely Fast)
Knockback
0 (None)
Quality
Tooltip
'Half shark, half gun, completely awesome.'

33% chance to not consume ammo.

Purchase From
Arms Dealer
Purchase Value
35  
Sell Value
7  
The Minishark is a pre-hardmode, rapidly firing machine gun. If the player has a lot of ammo, it can be very useful for taking out bosses such as the Eye of Cthulhu, Skeletron and the Eater of Worlds. While being effective in pre-hardmode, this weapon is almost obsolete in hardmode, as all enemies have a lot of defense and it is such a waste to use all the bullets against only a single enemy.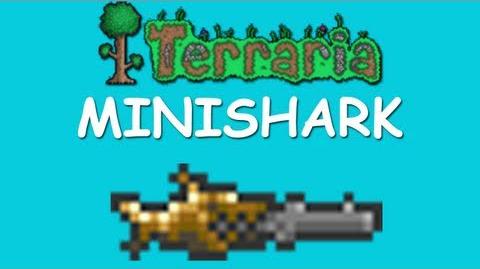 Notes
When speaking with the Arms Dealer, he occasionally says "I see you're eyeballin' the Minishark... You really don't want to know how it was made."
The Necro Armor's 20% chance to not consume ammo will stack with the Minishark's 33% chance, yielding a 55% chance that the player will not consume ammo. This means that roughly every second shot will not consume any ammo.
Since the Minishark has 0 knockback, it is not possible to get Unreal prefix with Reforging; the best prefix for the Minishark is Demonic for damage and Murderous for overall stat increase.
Like all machine guns, bullets fired from this weapon have a spread. This can be seen with any type of bullet.
Receiving this weapon gives you the achievement "Completely Awesome."
Trivia
The name is likely a reference to the real-life minigun, which is known for having multiple barrels and very fast firerate.
Update Info
Given a 33% chance not to consume ammo.