v

Minishark

98
   
Information
Type
Weapon
Sub-Type
Ranged Weapon

Damage (?)

6
Use Time
7 (Insanely Fast)
Knockback
0 (None)
Rarity

Tier 2 (Green)

Tooltip
'Half shark, half gun, completely awesome.'

33% chance to not consume ammo.

Purchase From
Arms Dealer
Purchase Value
35  
Sell Value
7  
Crafting
This item cannot be crafted.
Material In
Megashark
Star Cannon
The
Minishark
is a machine gun that is "half gun, half shark, completely awesome" according to its description. It costs 35
Gold Coins
and is sold by the
Arms Dealer
. The Minishark may use
Musket Balls
,
Silver Bullets
,
Meteor Shot
,
Cursed Bullets
and
Crystal Bullets
as ammunition. It does 6
damage
at an "insanely fast speed". It is the second fastest
weapon
in Terraria, second only to the
Megashark
.
If the player has a lot of ammo for it, it can be very useful for taking out pre-hardmode bosses such as the Eye of Cthulhu and Skeletron.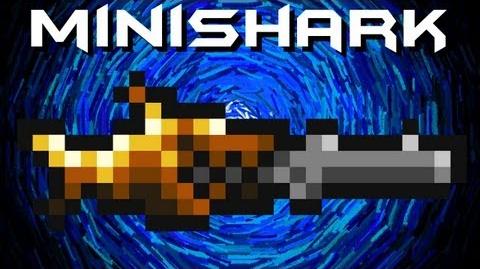 Notes
When talking to the Arms Dealer, he occasionally says "I see you're eyeballin' the Minishark... You really don't want to know how it was made."
The Necro Armor's 20% chance to not consume ammo will stack with the Minishark's 33% chance, yielding a 53% chance that the player will not consume ammo. This means that roughly every second shot will not consume any ammo.
Since the Minishark has 0 knockback, it cannot be reforged with the unreal prefix or any prefix that enhances knockback.
Update Info
Given a 33% chance not to consume ammo.