v

2590

Molotov Cocktail

Information
Type
Weapon
Sub-Type
Throwing
Damage?
24
Use Time
34 (Slow)
Knockback
8 (Very Strong)
Max Stack
99
Quality
Tooltip
A small explosion that puts enemies on fire
Lights nearby area on fire for a while
Sell Value
15  
The Molotov Cocktail is a thrown weapon that creates a small burst of fire which spreads fire over an area and sets enemies on fire. The spread fire will not damage the thrower.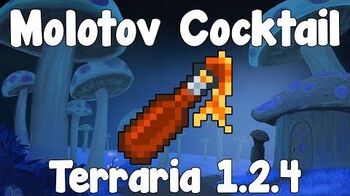 Update Info
Ad blocker interference detected!
Wikia is a free-to-use site that makes money from advertising. We have a modified experience for viewers using ad blockers

Wikia is not accessible if you've made further modifications. Remove the custom ad blocker rule(s) and the page will load as expected.