v

217

Molten Hamaxe

Information
Type
Tool
Sub-Type
Hammer
Axe / Chainsaw
Damage?
20
Hammer Power
70%
Axe Power
150%
Use Time
26 (Average)
Knockback
7 (Strong)
Quality
Sell Value
30  
The Molten Hamaxe is the hamaxe of the Hellstone Tier, being one tier above the Meteor Hamaxe and one tier below Cobalt equipment. Being a hamaxe, this tool functions both as a hammer and as an axe.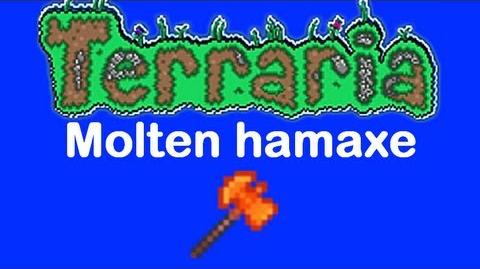 Notes
Like all other items made from hellstone, this tool emits light in the form of fire particles when swung, as well as making a moderately effective weapon.
Hamaxe is a portmanteau of hammer and axe.
Prior to the 1.2 Update, this item was a lower tier and quality than the "ultimate tool", the Drax hybrid tool, it has a greater axe power than the Drax; the Drax having 110% axe power, and the Molten Hamaxe having 150%. Do note, however, that the Drax is a Fast speed item, and the Molten Hamaxe is only a Slow speed item, so the Drax is technically better than the Molten Hamaxe.

However, there is the Picksaw, which is also lower in axe power, but has much higher speed, therefore making the Picksaw more efficient.
Update Info
Now requires 15 Hellstone Bars instead of 35.