The Molten Pickaxe is a pickaxe, being a tier above the Nightmare Pickaxe and a tier below the Cobalt Drill. It emits an area of light around the player while in use, it is also the only mining tool to do so. It is the best pickaxe the player can obtain before defeating the Wall of Flesh.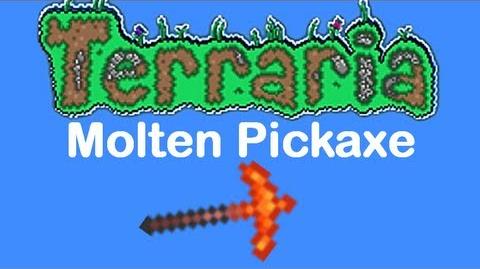 One hit destroys at about 3.2 blocks a second:
Two hits destroy at about 2.6 blocks a second:
Its knockback makes it inefficient for fighting monsters but will do if the need arises. It can keep meteor heads, slimes, and zombies away from hitting you.
Since the Molten Pickaxe harvests Hellstone quicker than the Nightmare Pickaxe, players might want to invest their first Hellstone Bars into this, allowing them to gather more Hellstone at a quicker speed.
Molten Pickaxe and Nightmare Pickaxe are the only picks that don't require wood to craft.
Originally, the Molten Pickaxe was made from Meteorite Bars, and was still the highest tier pickaxe. However it belonged to the Meteorite Tier. Hellstone Bars were not craftable yet and the Underworld existed but was pointless (except for money). However, this was in the Alpha version, and has been changed now.
The Molten Pickaxe has a 1 in 10 chance to set enemies On Fire. On Fire does approximately 2 damage per second.
Update Info
Edit
Has a chance to give enemies the On Fire! debuff.