v

Moon Charm

485
Information
Type
Accessory
Body Slot
Accessory Slot
Dropped By
Werewolves
Drop Rate
1.67%
Defense
1
Bonus
+1% Melee Critical Chance
+5% Melee Damage
+5% Melee Speed
+5% Movement Speed
Increased Jump Height
Rarity

Tier 4 (Red)

Tooltip
Turns the holder into a werewolf on full moons
Sell Value
3  
Crafting
This item cannot be crafted.
The Moon Charm is an accessory that is dropped by werewolves. When equipped, it will turn the player into a werewolf on the Full Moon.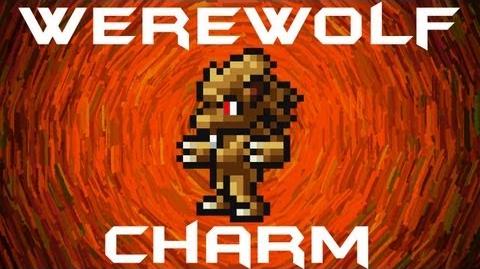 It is not the item itself which turns one into a werewolf; instead it is caused by the buff 'Werewolf'.
If both Moon Charm and Neptune's Shell are used underwater during Full Moon, the Neptune's Shell cancels the transformation to a werewolf.
While the Moon Charm's effect is active, NPCs behaviour towards the player will not change, weapons and armor still function as they normally would, but the texture of any vanity item(s) and armor is overwritten with the werewolf's texture.
The Werewolf the player turns into is brown, as opposed to the blue-grey hue that hostile Werewolves have.
In some cases, the moon charm may be stuck in the accessories slot.
Using a star may cause the player to turn human again regardless if the Moon Charm is in the accessories slot.
With the Moon Charm, when running with Hermes Boots, the Werewolf's added speed will not kick in. Yet to be confirmed.
When in a "Werewolf" form, you get added defense and damage which is a good thing to use when fighting bosses.