v

576

Music Box

Information
Type
Furniture
Sub-Type
Mechanism
Body Slot
Accessory Slot
Placeable
Yes


(if song recorded.)

Purchase From
Wizard
Purchase Value
10  
Sell Value
2  
Crafting
This item cannot be crafted.
The
Music Box
is an item that can be used to record and play in-game music. To record music, equip the item and there is a chance that it will record whatever music is playing. To play music, equip the music box or place it and right click on it. Having two or more music boxes placed in your world may cause their sprites to become glitched, but they will still play music. They are sold by the
Wizard
NPC for 10
Gold Coins
and can be controlled with
Wires
. The music box will record music even if you are stationary.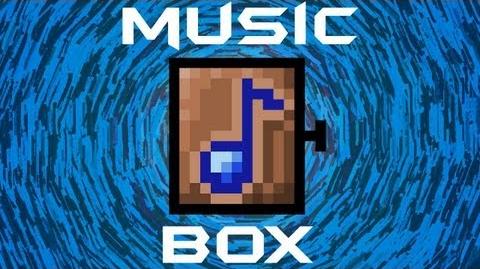 Songs
Overworld Day Theme (Record anytime during Day when Alternative Overworld Theme is not playing)
Eerie Theme (Record when in the Underworld, in a Meteor biome or during a Blood Moon)
Night time Theme (Record anytime during Night, except for the surface of Corruption, Crimson or the Jungle)
Underground Theme (Record when Underground)
Boss 1 (Record during the Goblin Army Invasion, or the pre-hard mode bosses Eye of Cthulhu, Eater of Worlds, Skeletron and Skeletron Prime)
Boss 2 (Record during the Wall of Flesh fight or from The Twins)
Boss 3 (Record during the Destroyer fight, the Frost Legion or Brain of Cthulhu)
Jungle Theme (Record while in the Jungle or Underground Jungle)
Corruption Theme (Record when in the Corruption)
Underground Corruption Theme (Record when in Underground Corruption)
Hallow Theme (Record when in the Hallow)
Underground Hallow Theme (Record when in Underground Hallow)
Title Theme (Crafted from the music boxes above)
Alternative Overworld Theme (Record anytime during Day when Overworld Day Theme is not playing)
Snow Theme (Record when in the Snow Biome)
Crimson Theme (Record when in The Crimson)
Dungeon Theme (Record when in The Dungeon)
Eclipse Theme (Record during an Eclipse)
Mushrooms Theme (Record when in a Glowing Mushroom Biome)
Temple Theme (Record when in the Jungle Temple)
Plantera Theme (Record during Plantera fight)
Boss 4 (Record during Golem fight or Pirate Invasion)
Boss 5 (Record during Queen Bee fight (Ocram or Eye of Cthulhu console)
Desert Theme (Record when in the Desert)
Ocean Theme (Record when in the Ocean Biome)
Ice Theme (Record when underneath the Snow Biome)
Space Theme (Record when in Outer Space)
Rain Theme (Record anytime during Rain)
Pumpkin Moon theme (Record during Pumpkin Moon fight)
Console-Exclusive Songs
Tutorial Theme (Crafted from all console-exclusive Music Boxes: Snow, Space, Ocean, Desert and Boss 4)
Notes
To record music, you have to equip the Music Box as an accessory. If autopause is on, the inventory must be closed because music can't be recorded while the game is paused.
The Music Box (Title) currently holds the record for the most complex craftable item, requiring 12 materials.
If you have the game volume turned down to 0%, music played by Music Boxes can still be heard, though the music will play at a low volume.
Music played by Music Boxes can be used to "copy" music to another box. This is useful if you wish to obtain more tracks, as you won't have to go to the area with the desired music (or fight bosses.)
Music boxes cannot record music if the game volume is muted.
You can equip a music box and a second music box with music and record the music while doing your normal activities. Using this method you can also have two of the same accessory equipped.
Even though there is a theme for underground corruption, there is no theme for the underground crimson.
Bugs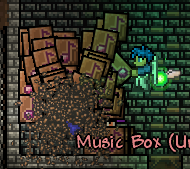 Attempting to place a Music Box on a flat surface such as a Wooden Table or Workbench used cause it to duplicate itself many times if there is a wall behind it. This bug was exploited to obtain vast sums of money by selling duplicating Music Boxes, however since update 1.1.1, this is no longer true.
There is a glitch that causes music boxes to float in the air if the blocks it is standing on are removed.
After recording the Ocean theme placing the Music Box, then destroying it, will cause it to spawn a fully functioning Drax but will destroy the Music Box.
On the Xbox 360/PS3(unconfirmed) version the Ocean Music Box spawns a Cactus Sword when broken.
When trying to record the Pumpkin Moon boss theme (v1.2.1.2), a successful recording will turn the music box into an Ankh Charm.
Update Info
Added several new themes to be recorded.
Fixed a bug that caused the Music Box to be duplicated when placed on Wood Platforms. (However, duplicates can still be created by placing on flat surface items such as the Wooden Table.)
Gallery