v

376

Mythril Hood

   
Left: The full armor set (male & female)
Information
Type
Armor
Sub-Type
Armor Piece
Body Slot
Helmet Slot
Bonus
Increases maximum mana by 60

---

15% increased magic damage

Set Name
Mythril Armor
Set Bonus
-17% Mana Usage
Defense
3
Quality
Sell Value
2  25  
The Mythril Hood is the Magic-Based, Head-slot item of the Mythril Armor set. It can be crafted at a Mythril Anvil/Orichalcum Anvil with 10 Mythril Bars.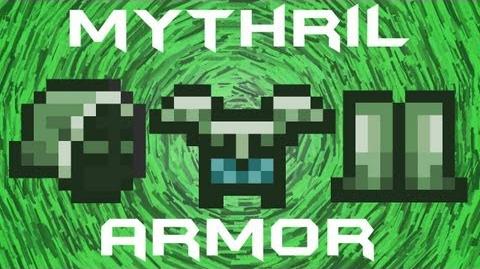 Trivia
The Mythril Hood is green in appearance, and is unique in that instead of showing the player's face, nothing can be seen inside the hood except a pair of green eyes. Because of this, many people like to wear this in their Social Slots.
It looks like Spectre Hood and Spectral Headgear.
Update Info
No longer a component in Hallowed Headgear.