v

436

Mythril Repeater

   
Information
Type
Weapon
Sub-Type
Repeater
Damage?
34
Use Time
22 (Fast)
Knockback
2 (Very Weak)
Continuous Attack
Yes
Quality
Sell Value
1  80  
The Mythril Repeater is the second tier of the repeater class, and the ninth tier of the bow class. It can use any arrow as ammunition. It has a blueish-green tinge to it, which is notable as Mythril weapons are usually green.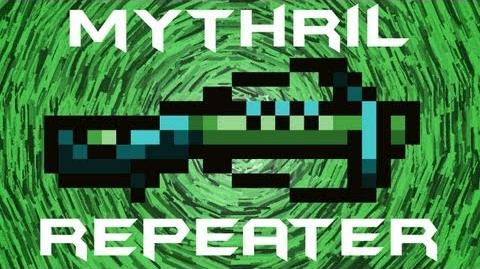 Notes
Despite the repeater's sprite being based off of a crossbow, it does not fire bolts.
Update Info
Ad blocker interference detected!
Wikia is a free-to-use site that makes money from advertising. We have a modified experience for viewers using ad blockers

Wikia is not accessible if you've made further modifications. Remove the custom ad blocker rule(s) and the page will load as expected.