v

3527

Nebula Dye

Information
Type
Item
Sub-Type
Dye
Quality
Sell Value
2  50  
The Nebula Dye is crafted with the fragments that drop from the Nebula Pillar. It is an animated dye that is a vibrant purple color with sparkling streaks that move vertically across the player's body.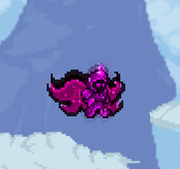 Update Info
Ad blocker interference detected!
Wikia is a free-to-use site that makes money from advertising. We have a modified experience for viewers using ad blockers

Wikia is not accessible if you've made further modifications. Remove the custom ad blocker rule(s) and the page will load as expected.