The
Night's Edge
is the most powerful pre-
Hardmode
weapon in the game, dealing 42 base damage at
Average
speed. This weapon emits a large amount of purple
light
when swung – an amount similar to that of the
Fiery Greatsword
, so it is useful in caves. The Night's Edge gives off the light of the Fiery Greatsword, the design of the
Muramasa
, the length of the
Blade of Grass
, and the color and shadow particle effect of the
Light's Bane
, which it is constructed of.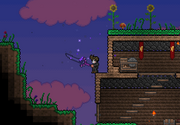 Notes
Trivia
Before Excalibur was introduced, Night's Edge was the most powerful sword in the game.
When reforged to legendary, this weapon deals about as much damage as Excalibur's base damage.
The Breaker Blade is comparable to this sword. The only advantage of Night's Edge over the Breaker Blade is that it emits light (though, Breaker Blade is longer in return).
The light emitted by this weapon has a similar particle effect to that of the Dark Lance and other Demonite tier items.
This weapon could be a reference to the Four Sword of the Legend of Zelda, particularly because the four swords used to make this are green (Blade of Grass), red (Fiery Greatsword), blue (Muramasa), and purple (Light's Bane), the same colors of the split Links.
The name of this sword could be a reference to the song Edge of Night, sang by Pippin in the movie adaptation of LOTR: Return of the King.
Update Info
Now emits light, akin to several other Demonite items.
New sprite.
Speed changed from "Very Slow" to "Average".
Damage increased from 40 to 42.
Weapon reach shortened.