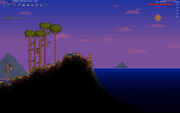 Oceans spawn on both sides of a map at the very edge. They are large bodies of water with a sand floor, that slowly progress downwards until you reach a certain point. Oceans have certain life-forms and items that can only be found around them, some examples being the Pink Jellyfish, Crab, and Shark, but some people have even claimed to have seen goblin scouts! The ocean is the only spot that Coral can be found, the key ingredient for certain potions. In oceans, because of the vast amount of space, it is possible to find a chest underwater, maybe more than just one. Oceans are the easiest places to find Breathing Reeds, Flippers, Tridents and Diving Gear , because the chests will be submerged in water, which can be found when going deep in the water. Oceans do not go onwards forever, they will eventually stop going down and reach the very side of the map. On rare occasions the map stops but allows you to go on, thus being able to travel to the underworld without digging. There's also a strange glitch that the water on the edge of the map can become stuck, but can only be viewed in a world editor/viewer.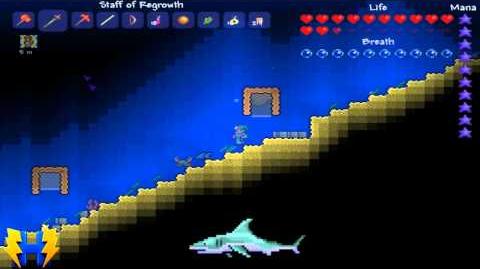 Sharks can easily slay characters with higher tier items, so oceans should probably be avoided until late-game equipment is equipped/put on. Be prepared if you want to face a shark. Or hide in a Sea Dome (Made when you build dirt around you and drain the water).
There are Orcas in the console version of the game.
Another way of navigating the ocean is by mining out the coral from the floor with the breath available, then creating a Gills Potion by combining 1 Bottled Water, 1 Waterleaf, and 1 Coral at an Alchemy Station. As you create more and more Gills Potions, traversing the ocean becomes much easier, eliminating the need for air. This can be useful for finding underwater chests, digging in the ocean, and more.
Creating an air tunnel on the bottom floor of the ocean is an easy way to make your way across, but it is very tedious work. Further exploration and experimentation has shown that should you make a Hellevator in this air tunnel and punch a hole through your tunnel, the ocean will pour through. When the first bit of water hits the Underworld, the water evaporates (as of 1.0.5). When this happens, all water that is falling and would eventually fall to The Underworld instantly disappears, leaving only what ocean water would remain (water that didn't have an open path to fall through). This proves that the ocean is not infinite and can be removed from your world if you wish to do so.
Through experimentation, it has been determined that it IS possible to create an artificial ocean. For an area to be considered an ocean, it must-
Have a floor of sand a least one block thick.
At least one block of water.
Must be at least 1/3 of the way from spawn. [confirmation on distance?]
The same music theme is used for both Forest and Ocean.
When drained, Oceans turns into Deserts and corresponding monsters start to spawn.
Drained Oceans can also be changed to either Corrupted or Hallow biomes, spawning Mummies.
Corrupted Oceans will not spawn Sharks.