When summoned, the
Orb of Light
will follow the player around and project light in a manner similar to the
Fairy Bell
. However, the Orb of Light has low acceleration and a slow top speed, so it often falls behind, especially when the player falls a long distance or otherwise travels at a fast speed (such as when using the
Hermes
/
Spectre Boots
. If it falls too far behind, it will warp to the player's location. The Orb of Light is obtained from breaking a Shadow Orb.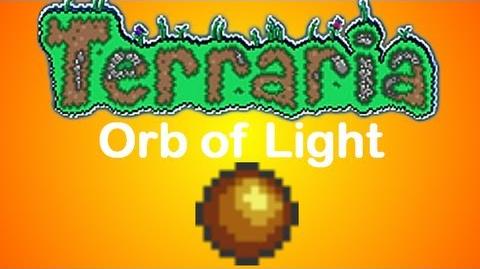 Pressing B, the buff hotkey by default, will also activate the Orb of Light. Be warned that pressing B will also use any buff potions that you happen to be carrying.
If a player's maximum mana is below 40, it will be free to cast, yet is not usable by hotkey.
The Orb's movement is not hindered by blocks.
Update Info
Edit
Light output reduced by 35%.
Now acts as a buff rather than a spell.
Movement speed reduced.