v

 

Orichalcum Armor


Top: Male Set
Bottom: Female Set
Information
Type
Armor
Sub-Type
Armor Set
Body Slot
Helmet/Shirt/Pants Slots (Full Set)
Set Bonus
Flower Petals will fall on the target for extra damage.
Defense
42 with Mask(Melee)
30 with Helmet(Ranged)
27 with Headgear(Magic)
Quality
Sell Value
Total (One Helmet):
5 , 40 
Total (Three Helmets):
9 , 90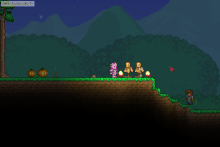 Orichalcum Armor is one of the Hard Mode armor sets, craftable from Orichalcum that appears in the world after breaking a Demon Altar or Crimson Altar. (Orichalcum or Mythril will be generated once the player's second, fifth, eighth, etc. Altar is destroyed)
Parts of the Set
13 defense
6% increase chance of critical strike
10 defense
11% increase in movement speed
4 defense
18% increase chance of critical strike using magic
Increases maximum mana by 80
19 defense
7% increased melee damage
7% increase in melee speed
7% increase in movement speed
Set Bonus: Every time an enemy is struck, a petal will quickly strike through the screen similarly to a falling star summoned by a Starfury, dealing 20-30 damage to all enemies it touches as well as illuminating the surrounding areas the projectile passes through briefly. It can only be triggered roughly once every second, and will be triggered even by passive damage sources (such as bees from a Honeycomb or the Thorns buff), but not damage from debuffs or itself.
Update Info
Ad blocker interference detected!
Wikia is a free-to-use site that makes money from advertising. We have a modified experience for viewers using ad blockers

Wikia is not accessible if you've made further modifications. Remove the custom ad blocker rule(s) and the page will load as expected.