v

227

Painter

Information
Type
NPC
Sub Type
Town
HP
250
Defense
15
The Painter is a new NPC as of 1.2. He sells painting tools, cans of paint, wallpaper, and even a few paintings depending on where he is housed in. He will spawn when you get a banner of some sort, or a painting.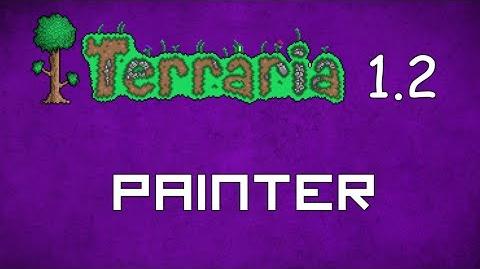 Sells
Painter's Names
Bruno
Carlo
Darren
Enzo
Guido
Leonardo(Possibly a reference to Leonardo da Vinci)
Lorenzo
Luca
Luciano
Ludo
Luigi
Marco
Mario
Martino
Mauro
Raphael
Stefano
Painter's Quotes
"Try swirly pink and purple, it works, I swear!"
"No, no, no... There's TONS of different grays! Don't get me started..."
"Check out <Party Girl NPC name>. Now that's a girl who can paint the town red!" (Only if you have the Party Girl NPC)
"I know the difference between turquoise and blue-green. But I won't tell you."
"I hope it doesn't rain again until this paint dries. That would be a disaster!"
"I'm all out of titanium white, so don't even ask."
"When you enter an hallowed land, you will see a rainbow in the sky. I can help you with painting that if you want." (Only in Hardmode)
Trivia
His names suggest that he comes from Italy.
Two of his names are 'Mario' and 'Luigi', most likely referencing the Super Mario Bros. series of games by Nintendo.
His appearance is also strikingly similar to Mario's appearance in several of his earlier games.
Two of his names are 'Leonardo' and 'Raphael', referencing two renowned painters.
His quote regarding the many shades of grey could be a reference to the infamous book series, '50 Shades of Grey'.
Update Info