v

290

Paladin

Stats
Type
Monster
­
Sub Type
Miniboss
HP
5000
Rarity
Uncommon
Attack
140 (hammer)

80 (melee)

Defense
40
Spawn Time
(Hard Mode)
(Anytime)
Spawn Area
Dungeon
Drops
4  50  

?

100%
Paladin's Hammer
4%
Paladin's Shield
10%
The Paladin is a miniboss that spawns in the Hard Mode Dungeon after Plantera has been defeated.
The Paladin throws hammers at the player from a distance. Hammers pass through walls and can easily kill a player in 4-5 hits, so strong gear is highly recommended for those looking to farm his drops. Constant damage stops the Paladin from throwing hammers. Weapons such as Vilethorn, Crimson Rod/Nimbus Rod or Inferno Fork seem to be best for this.
Early Caster based strategy
Items required:
Execution: When you see the Paladin coming, you need to prepare fast. Make sure you have all the required gear easily selectable. Grapple anywhere where you can sit above him easily and once he's below you, cast your Nimbus Rod right above him. The constant damage will stop him from throwing his hammers up at you. Make sure to maintain the raincloud to keep the constant damage coming. This is important or he will throw hammers at you and kill you quickly.
Once you've established automatic constant damage, spam your bolt spell down at him to deal buckets of damage. Be sure to pause around half mana to regenerate so you can keep spamming your bolt spell! Be sure to bring health potions as well for when the damage interval is long enough for him to throw a hammer. Also, be sure to stay on your toes for any of the Dungeon's normal mobs. Those mage skeletons hurt!
Another good strategy for killing the Paladin is to build a small platform to stand on just big enough so that the paladin 'can't see you' and wont throw hammers at you. Then you can simply kill him using weapons such as the Inferno Fork or Magnet Sphere. If you are yet to obtain these weapons the Chlorophyte Partisan or Nettle Burst are viable options. You will want to use any weapon that can shoot through walls or can go around your platform.
Another thing to note, is that Paladin's are susceptible to the confusion debuff .
Good luck!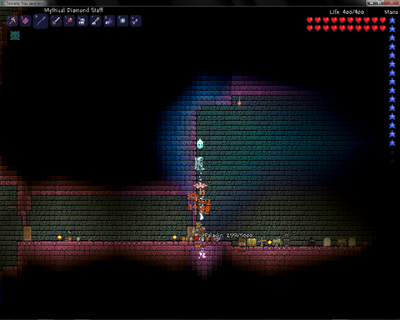 Late Game tips:
An easy way to kill the Paladin is by acquiring a Magnet Sphere, then grappling above the Paladin and simply constantly cast it down. It deals a lot of damage fairly quickly, causing the Paladin not being able to fire its hammers at you. Because it can't attack, you can easily finish it.
Update Info