v

1864

Papyrus Scarab

Information
Type
Accessory
Body Slot
Accessory Slot
Quality
Tooltip
Increases max number of minions


Increases damage and knockback of your minions

Sell Value
5  
The Papyrus Scarab is a craftable accessory that combines the damage and knockback increase of the Hercules Beetle with the minion bonus of the Necromantic Scroll. The damage bonus is only 15%, not 25% as may be expected, but can stack with all other summon-boosting equipment.
Notes
The Papyrus Scarab's damage and knockback boost affects all summons, not just Pygmies. Including summons from the Staff of the Frost Hydra, Raven Staff, and Slime Staff.
Equipping the Papyrus Scarab, Necromantic Scroll, Hercules Beetle, and Spooky Armor set together will grant a total summon damage increase of 98%, allowing Pygmies, Ravens and the Frost Hydra to do nearly double the amount of damage.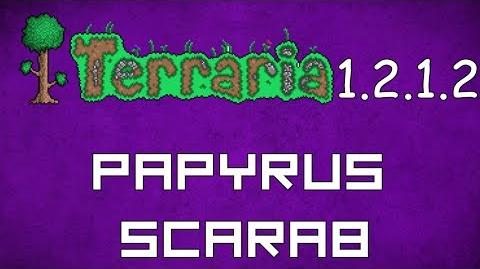 Update Info
Ad blocker interference detected!
Wikia is a free-to-use site that makes money from advertising. We have a modified experience for viewers using ad blockers

Wikia is not accessible if you've made further modifications. Remove the custom ad blocker rule(s) and the page will load as expected.