v

208

Party Girl

Information
Type
NPC
Sub Type
Town
HP
250
Defense
15
The Party Girl is a friendly NPC that was added in the 1.2 update. She sells party supplies to the player. She has a 2% chance every in-game day of spawning once the player has housed at least 8 other NPCs, and there is a house available for her.
It is worth noting that if she dies she only has a 2% chance to respawn every following day.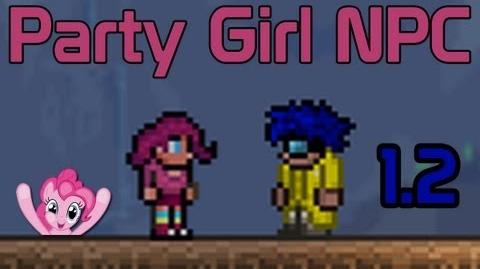 Sells
Notes
She appears to be the only female NPC that doesn't get angry when you talk to her during a Blood Moon.
Trivia
Bugs
Sometimes, the Party Girl can spawn with a cyborg name without being a Cyborg such as Omicron. Same as above, This can be fixed by killing the Party Girl and waiting for her to spawn in again.
Party Girl's Names
Bailey
Bambi
Bunny
Candy
Cherry
Dazzle
Destiny
Fantasia
Fantasy
Fender
Glitter
Isis
Lexus
Paris
Roxanne
Sparkle
Star
Sugar
Trixie
Trixy
Party Girl's Quotes
"My name's <NPC NAME> but people call me party pooper. Yeah I don't know, it sounds cool though"
"Wow, <Character name>, meeting an adventurous man like you makes me want to party!"
"Put up a disco ball and then I'll show you how to party."
"I went to Sweden once, they party hard, why aren't you like that?"
"We should set up a blinkroot party, and we should also set up an after-party."
"Do you party? Sometimes? Hm, okay then we can talk..."
"We have to talk. It's... it's about parties."
"I can't decide what I like more: parties, or after-parties."
"I think it is about time I got my hair did!" (Only if Stylist is present)
Update Info