This pet is found only in the console and mobile version(s) of Terraria.
The Pet Bat is a pet exclusive to the Console Version of the game. It can be summoned by using a Vial of Blood, an item that can be found in chests anywhere in the world.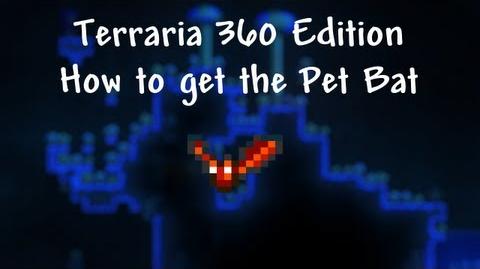 Notes
Like the other Pets, it will follow and fly around with you and, if it touches an enemy, it will deal 1-3 damage.
The Pet Bat may be a hindrance when dealing with certain enemies, as enemies taking damage from the bat will briefly be unable to be hit by the player. This could make sufficiently powerful enemies more difficult to defeat than they should be.
The Pet Bat looks very similar to a Jungle Bat, but red in coloration rather than brown.
The Pet Bat and the Pet Hornet are the only pets that always fly, the Pygmy flying sometimes.
The Buff for the Pet Bat says "Out for Blood" This may refer to the fact that it can attack, unlike some of the other Pets.
Update info
Ad blocker interference detected!
Wikia is a free-to-use site that makes money from advertising. We have a modified experience for viewers using ad blockers

Wikia is not accessible if you've made further modifications. Remove the custom ad blocker rule(s) and the page will load as expected.