Philosopher's Stone
Comments

166
1,338pages on
this wiki
v

Philosopher's Stone

535
Information
Type
Accessory
Body Slot
Accessory Slot
Dropped By
Mimics
Rarity

Tier 4 (Red)

Tooltip
Reduces the cooldown of healing potions (to 45 seconds)
Sell Value
2  
Crafting
This item cannot be crafted.
The Philosopher's Stone is an accessory which is dropped by Mimics. The Philosopher's Stone reduces the cooldown of healing Potions from 1 minute to 45 seconds.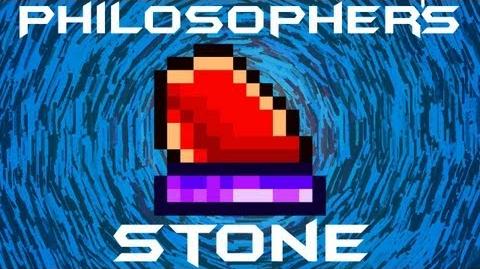 It is based on a legendary alchemical substance said to be capable of turning base metals into gold or silver. It was also believed to be the Elixir of Life, granting immortality. (Not a reference to Harry Potter, Fullmetal Alchemist, etc.)
If it is equipped after a healing item has been consumed, it will not shorten the recharge time of that item.
Update Info
Edit