The Probe is a unique flying and burrowing enemy that is sent out from The Destroyer as it takes damage. When probes are deployed, they are invincible to attacks for a short period of time. Probes shoot lasers which do moderate damage, though the lasers themselves do not pass through solid blocks. Most notably, Probes have a 100% chance to drop a Heart upon death. For this reason, killing Probes while fighting The Destroyer is an excellent source of healing. Like The Destroyer, Probes are immune to lava.
The red orbs on The Destroyer's body are actually Probes. When one of the red orbs takes enough damage, the Probe will detach from The Destroyer. After all the orbs are gone, no more Probes can spawn. This means that The Destroyer cannot shoot lasers once all of the Probes have been defeated. Note that, unlike the Destroyer, Probes are not immune to status effects making them easy to kill with cursed bullets or other effects.
Bugs
Sometimes Probes are not visible on a TShock server.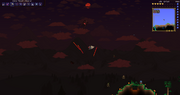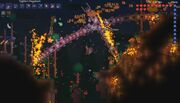 Update Info