v

2223

Pulse Bow

   
Information
Type
Weapon
Sub-Type
Bow
Damage?
65
Use Time
21 (Fast)
Knockback
3 (Very Weak)
Continuous Attack
Yes
Critical Strike Chance
14%
Quality
Tooltip
Shoots a charged arrow
Purchase From
Travelling Merchant
Purchase Value
45  
Sell Value
9  

Crafting
This item cannot be crafted.
The Pulse Bow is a powerful weapon that is rarely sold by the Travelling Merchant after defeating Plantera. When fired, it shoots a white bolt at a very high rate of speed that bounces off blocks five times. It's also the only non-repeater bow that can auto attack. Neutralizes the effects of arrows but still adds with their damage (such as Venom and Ichor).
This can be a reliably powerful weapon for its cost, capable of defeating most hardmode enemies and hardmode bosses. As of 1.2.4, the Tsunami does the most damage of any bow, but there are many reasons one might use a Pulse Bow, such as continuous attack or the ricocheting factor.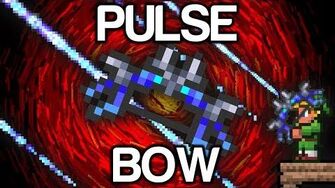 Notes
By its color and look, it seems to be made by Shroomite Bars.
This item can be  by reforging it to Unreal.
Update Info
Ad blocker interference detected!
Wikia is a free-to-use site that makes money from advertising. We have a modified experience for viewers using ad blockers

Wikia is not accessible if you've made further modifications. Remove the custom ad blocker rule(s) and the page will load as expected.