v

477

Queen Statue

   
Information
Type
Statue
Sub-Type
Mechanism
Effect
Summons a random female NPC
Placeable
Yes
Max Stack
99
Quality
Found In
Underground
Sell Value
60  

Crafting
This item cannot be crafted.
The Queen Statue is a functional statue that, when wired to a trigger and activated, will summon a random female NPC to the statue's location. Eligible NPCs include only the Mechanic, Dryad, Steampunker, Party Girl, Stylist, and Nurse. The statue can be found Underground.
An NPC must already have been acquired (rescued, or currently living in a house) for them to be an eligible spawn.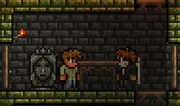 Update Info
Now correctly teleports the Stylist.
Statues
Decorative
Functional
Item-spawning
Mob-spawning