Ad blocker interference detected!
Wikia is a free-to-use site that makes money from advertising. We have a modified experience for viewers using ad blockers

Wikia is not accessible if you've made further modifications. Remove the custom ad blocker rule(s) and the page will load as expected.
v

662

Rainbow Brick

Information
Type
Block
Sub-Type
Brick
Placeable
Yes
Max Stack
999
Quality
Dropped By
Rainbow Slime
Drop Rate
100%
Sell Value
No Value
Rainbow Bricks are blocks obtained by killing Rainbow Slimes. Rainbow bricks shift quickly between multiple colors and can change the color of flowing water as it flows through blocks that have been shaped with a hammer. An illusion can be created by staring at a box of these bricks, they will seem to warp as they shift colors. The rainbow bricks may hurt your eyes, if so using these in large quantities is not recomended.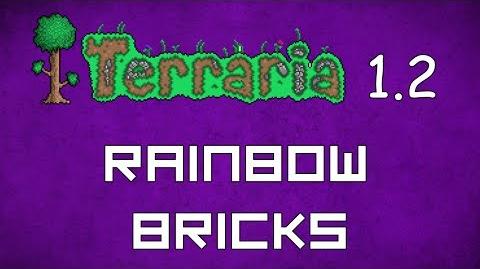 Bugs
If you were to have the rainbow bricks selected in your hotbar, taking any item out of its slot will make it rapidly shift color like the rainbow bricks.
Notes
While rainbow bricks change color and shine at night, they don't produce any light for the surrounding area.
Update Info