v

3571

Rainbow Crystal Staff

   
Information
Type
Weapon
Sub-Type
Summon Weapon
Damage?
150
Mana Cost
10
Use Time
30 (Average)
Knockback
7.5 (Very Strong)
Highest Prefix

?

Mythical
Recommended Prefix

?

Ruthless

Quality
Tooltip
Summons a radiant crystal that banishes your enemies

'The colors, Duke, the colors!'

Dropped By
Moon Lord
Drop Rate
11.11% (1:9)
Sell Value
10  

Crafting
This item cannot be crafted.
The Rainbow Crystal Staff is a summon weapon dropped by the Moon Lord. When used, it summons a diamond shaped crystal that attacks nearby enemies with rainbow colored bursts of twinkling light.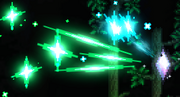 Trivia
The quote in the tooltip is a reference to a Popsicle commercial from the 90's where a teenage boy consumes a Popsicle, then proceeds to excitedly state "The colors, Duke, the colors!" to his dog.
Update Info
Ad blocker interference detected!
Wikia is a free-to-use site that makes money from advertising. We have a modified experience for viewers using ad blockers

Wikia is not accessible if you've made further modifications. Remove the custom ad blocker rule(s) and the page will load as expected.