The 
Rainbow Crystal Staff
is a summon weapon dropped by the
Moon Lord
. When used, it summons a diamond shaped crystal that attacks nearby enemies with rainbow colored bursts of twinkling light.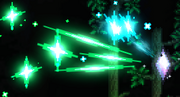 Notes
While higher in damage compared to the Lunar Portal Staff, it has even greater difficulty hitting fast moving enemies, as there is a delay between targeting enemies and the crystals resulting explosion. It is however, much more effective against slower moving enemies and most bosses as a result.
Trivia
The quote in the tooltip is a reference to a Popsicle commercial from the 90's where a teenage boy consumes a Popsicle, then proceeds to excitedly state "The colors, Duke, the colors!" to his dog.
Update Info