v

1930

Razorpine

   
Information
Type
Weapon
Sub-Type
Spell
Damage?
48

Velocity (?)

12
Mana Cost
5
Use Time
8 (Insanely Fast)
Knockback
3.25 (Weak)
Continuous Attack
Yes
Quality
Tooltip
Shoots razor sharp pine needles
Dropped By
Everscream
Sell Value
5  

Crafting
This item cannot be crafted.
The Razorpine is a weapon found during the Frost Moon. It is a common drop from the Everscream. The Razorpine, when used, shoots 2-3 pine needles out in the direction pointed at an insanely fast speed.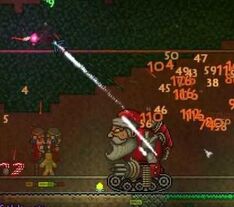 Notes
The Razorpine can be shot through 1 to 5 thick blocks, if the player stands near the wall.
The Razorpine shoots about 2 or 3 needles per shot.
The pines are affected by gravity.
It resembles an Everscream's twig.
Update Info
Now can be Reforged to Mythical.