v

2341

Reaver Shark

   
Information
Type
Tool
Sub-Type
Pickaxe
Damage?
17
Pickaxe Power
100%
Use Time
18 (Very Fast)
Knockback
3 (Very Weak)
Highest Prefix

?

Legendary
Recommended Prefix

?

Light
Quality
Sell Value
1  50  

Crafting
This item cannot be crafted.
The Reaver Shark is a pre-hardmode Pickaxe that can be obtained in the Ocean while fishing. It can mine anything up to Cobalt/Palladium Ore.
Notes
This is the best pre-hardmode pickaxe. It does more damage than the Molten Pickaxe (17 opposed to 12).
As this pickaxe can obtained without fighting any bosses or spelunking (with the exception of bait) and is usable up to early hardmode (with the same Pickaxe Power as the Molten Pickaxe), it is recommended to be obtained when playing with a new character.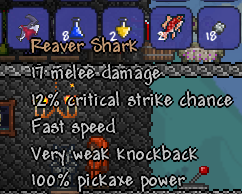 Update Info
Pickaxes & Drills
Standard Pickaxes
Copper Pickaxe

Tin Pickaxe

Iron Pickaxe

Lead Pickaxe

Silver Pickaxe

Tungsten Pickaxe

Gold Pickaxe

Platinum Pickaxe

Nightmare Pickaxe

Deathbringer Pickaxe

Molten Pickaxe

Cobalt Pickaxe

Palladium Pickaxe

Mythril Pickaxe

Orichalcum Pickaxe

Adamantite Pickaxe

Titanium Pickaxe

Chlorophyte Pickaxe

Spectre Pickaxe

Picksaw
Nebula Pickaxe
Solar Flare Pickaxe
Stardust Pickaxe
Vortex Pickaxe
Drills

Cobalt Drill

Palladium Drill

Mythril Drill

Orichalcum Drill

Adamantite Drill

Titanium Drill

Chlorophyte Drill

Drax

Nebula Drill
Solar Flare Drill
Stardust Drill
Vortex Drill
Special Digging Tools
Cactus Pickaxe
Bone Pickaxe
Candy Cane Pickaxe
Reaver Shark
Pickaxe Axe
Shroomite Digging Claw
Ad blocker interference detected!
Wikia is a free-to-use site that makes money from advertising. We have a modified experience for viewers using ad blockers

Wikia is not accessible if you've made further modifications. Remove the custom ad blocker rule(s) and the page will load as expected.